Europe Tourist Visa
The plan to travel to European countries is altogether a different experience. It is a wide landscape with a good number of different countries each having its significance. European nations are popular for historic monuments, hundreds of tourism spots, technological advancement and great career and business opportunities. Millions of people flock every year to travel in Europe for various reasons with the most common being recreational and leisure travel. The increased global connectivity has given wide alternatives to travel with pleasure and convenience.  We are experienced Europe Tourist Visa consultant   Jalandhar provide tourist visa services.
The special Visa required for travelling in Europe is known as the Schengen visitor visa. It is a travel permit for third-country citizens to travel into Schengen countries for 90 days within 6 months of duration. Whether you travel for tourism, business reasons or personal purposes the Visa allowance is necessary.  This temporary visa includes the European countries of the Czech Republic, Belgium,  Austria, Finland, France, Germany, Estonia, Denmark, Lithuania, Luxembourg, Malta, Netherlands, Norway, Poland, Portugal, Slovakia, Slovenia, Spain, Sweden,  Switzerland, Greece, Hungary, Iceland, Italy, Latvia and Liechtenstein. 
NFCI global is a renowned Europe Tourist Visa consultant Jalandhar who assists and supervises easy Visa clearance and handles all the formal processes for Europe tourist visa involved in getting the visa. Our expert team has enabled thousands of people to travel to European nations. We will guide you for a smooth travelling experience with a comfortable document processing service. Along with that, we provide other travel services with planning for stay and hassle-free enjoyment in Europe. Our wide travel package options can give you the best offers for your dream travel. 
Eligibility documents and criteria:-
There are legal criteria and eligibility to apply for a European travel visa or Schengen visit visa. It is important to meet these requirements for avoiding the chances of rejection for the visa:-
Have any Questions?
Call us Today!
(+91)880324000
01.
You must not be a citizen of any European country.
04.
Medical insurance of minimum €30,000.
07.
Travelling for business purposes needs legal proof of your company.
02.
Either you should travel for tourism or any other reason that could be justified.
05.
Bank statements for the last 3 months to prove that you have enough financial resources to support your travel.
03.
Valid passport for at least 3 months after the date of applying for a visa.
06.
You need to have proof of accommodation. You can have sponsored stay by any known hotel booking proof.
Eligibility documents and criteria:-
It will not take time to get a visa if you have proper documents and relevant eligibility. But, sometimes it can be time-consuming for receiving visas for some different countries. 
A short term stay visa comes between 2-10 days. Sometimes, holidays in between the visa can take up to 14-21 days.
It is suggested to apply at least 2 weeks before the travel date.
In some extraordinary or special cases, it can take up to 2 months.
5 reasons to visit Europe:-
Apart from business or personal reasons, Europe is a major tourist spot for the whole world. Its tourist spots have always fascinated travelers. Let's look at the top reasons to visit Europe:-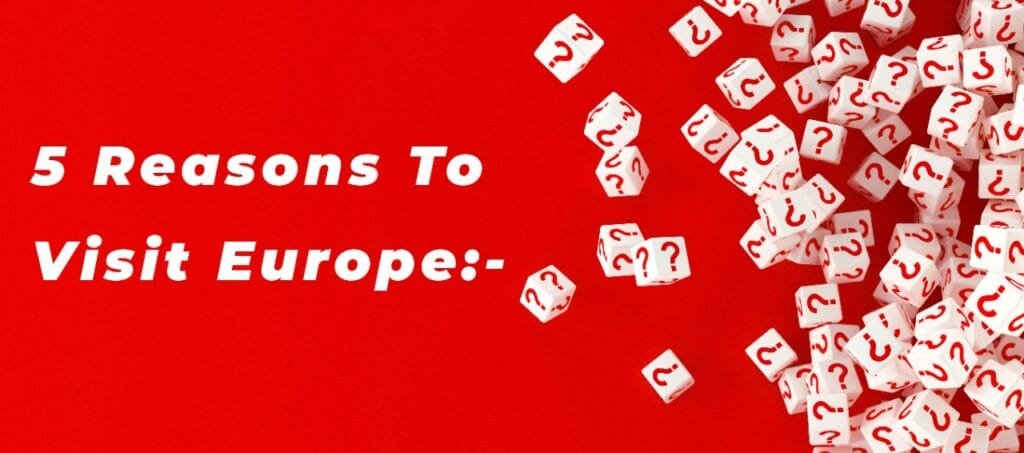 Walk-in between the
history
Europe has a rich record of historical occurrences and it has been a witness for a big part of human history. There are historical monuments like the acropolis or Prague's old town, old theatres, royal palaces, museums etc.
To view the photographic landscape
Europe houses some of the most beautiful sights in the world. There are snow-clad mountains like the swiss alps with beautiful rivers and streams and mesmerising Italian coastline. It is a perfect place to behold the lifetime beauty of our world.
Shop for some of the best products in the world
Any travel is incomplete without some bags of shopping. Europe is a house to some of the biggest fashion, footwear and jewellery houses in the world. It's a great joy to some in some of the most famous markets of the world getting some unique and rare products and items.
To celebrate some of the greatest festivals
Europeans include people from different religions and cultures of the world. So you can expect that they celebrate every festival across all the cultures.
To explore rare wildlife
There are many rare animal species found in Europe. You can see wild cats, foxes, European jackals, Eurasian badgers, etc. There are European mink and Norwegian lemming etc.
Our support Services like :
We are a renowned Europe Tourist Visa Services Jalandhar with a qualified team and active assistance. We comprehensively support you for:-
We complete the complex visa process on your behalf
We collect all the essential documents required to apply for a visa.
We help you to prepare relevant paperwork, accommodation confirmations and financial statements.
We monitor, track and follow up on the processing of your visa.
We guide you to eliminate all the possible reasons that might reject your visa.
If required- we also train you for interview preparations.
Benefits of choosing NFCI GLOBAL
Along with visa assistance, we also help you with other formalities necessary to travel to your desired destinations. With years of experience in Tourist visa services Jalandhar, we plan your travel for free and partner in your memorable stay. Our services are available at every step for travelling abroad with ethics. We the best Europe Tourist Visa consultant Jalandhar provide the highest level of assistance with our experience and expertise. NFCI Global is the master franchise of NFCI education with a prominent name. 
Fulfil your dream to travel abroad with the best Europe Europe Tourist Visa consultant Jalandhar for a comfortable experience. 
Are You Looking For The Best Immigration Consultant?

Contact Us

Let's Talk
Get In Touch